Girl, 12, climbs Snowdon to raise awareness of organ donation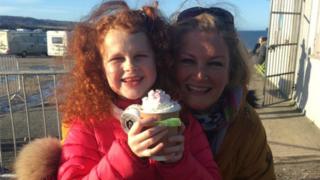 A 12-year-old girl has reached the summit of Snowdon to mark 10 years since her life-saving liver transplant.
Ella Noon, from Colwyn Bay, received the donation at 26 months old, less than a week after going onto the waiting list.
She marked the milestone in her life by climbing the highest peak in Wales and England to raise awareness of the importance of organ donations.
Ella's donor's mother, Lindsey Adderson, also took part.
"I have always wanted to do something challenging to show the world that having a transplant doesn't stop you from doing exciting and challenging things," Ella said.
"I thought it was important to mark 10 years since my transplant because without it, I wouldn't have survived.
"The liver I received gave me another chance at life so I'm determined to live it in honour of my donor."
Following a social media campaign, Ella found her donor's mother, Lindsey.
Her daughter Jessica died when she was 17 years old, and had discussed her wishes to be an organ donor just weeks before.
"That conversation came back to me when the subject of organ donation came up," Lindsey said.
"Just by asking 'would you donate your organs?' can start a really important discussion that could help save a life, like Jessica saved Ella's.
"Today is about celebrating Ella's life, and remembering Jessica, whose passing saved her life."