Protect food warning in Gwynedd over swooping seagulls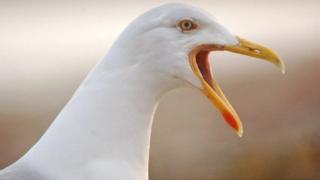 People visiting the seaside in Gwynedd are being told to guard their food to stop seagulls snatching their chips and ice cream.
Gwynedd Council is issuing leaflets telling people what to do to deter the gulls.
It comes after a school in Porthmadog had to employ the help of a falcon and a hawk to deter seagulls.
The council hopes to educate people on the measures that can be taken to prevent gulls from becoming a nuisance.
As part of the campaign leaflets are being distributed in coastal areas in order to convey the message to local residents and visitors to the area.
They include advice such as "don't drop rubbish or food scraps on the floor", "use bins with lids or take the food waste home" and "don't feed the gulls, and avoid giving them an opportunity to snatch food - be vigilant and keep food close to you".
The council is giving residents tougher gull-proof bin bags, while Caernarfon Town Council has employed a company which uses birds of prey to keep the gulls away from the town centre.
Deputy council leader Dafydd Meurig said: "In a county like Gwynedd where so many of our towns and villages are near the coast, gulls can be a real nuisance.
"I'm pleased that we're raising awareness about the simple measures that everybody can take to help keep the gulls away.
"The advice is simple - if you're eating outside, make sure you place your leftovers and your food waste securely in a bin."