Wylfa Newydd nuclear plant protesters go to Japan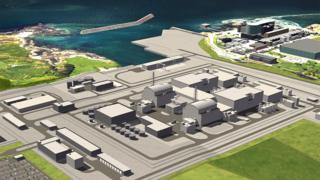 A group of anti-nuclear campaigners have travelled to Japan to petition the government to withdraw support for a nuclear power station on Anglesey.
A petition against the Wylfa Newydd nuclear plant signed by almost 6,000 people was handed to Japan's Ministry of International Trade and Industry.
Pawb's (People against Wylfa B) trip comes amid reports of UK and Japanese government investment in the project.
Technological giant Hitachi said there had been "no changes to disclose".
Hitachi's Horizon Nuclear Power wants to start building on Anglesey in 2020, but recent reports say the British government is to offer £13.3bn to support the project.
Prime Minister Theresa May met Hitachi's chairman Hiroaki Nakanishi earlier this month to discuss support.
Speaking to BBC Wales from Japan, Meilyr Tomos from Pawb, said: "There's huge uncertainty. It's a scheme that requires two governments to prop it up, so there's no certainty on anything at this stage.
"It's not a commercial proposition. You need the biggest bang for your buck, that's not something nuclear can deliver, it's far too expensive."