Paul Savage murder: North Wales Police to review evidence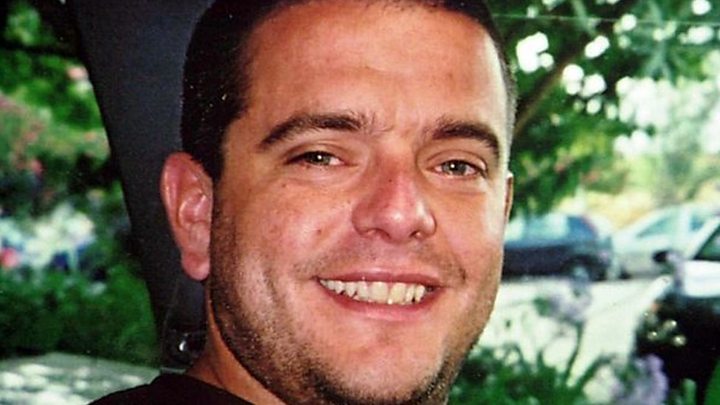 Detectives are to review evidence collected following the murder of a postman in Flintshire 15 years ago.
Paul Savage, 30, was attacked with a wooden baton while on his round in Clayton Road, Mold, on 4 February 2003.
Despite a £100,000 reward and a reinvestigation of the case, his killer or killers have never been brought to justice.
However, following advances in DNA technology, North Wales Police said it would carry out a forensic review.
It will see whether there are grounds to reopen the case again.
Mr Savage's mother June White has continued to campaign for her son's killers to be brought to justice.
She told BBC Wales: "I'm pleased to hear they're looking at the case again.
"I want people in that community to know that I will never give up. I'm not pushing this under the carpet."
Mr Savage had moved from Sale in Manchester to the village of Gwernaffield, near Mold, with his partner Charlotte and four-year-old daughter Regan, shortly before he died.
He was struck several times with an 18-in (45cm) club, believed to have been fashioned from a banister rail, as he delivered mail.
He died at Wrexham Maelor Hospital without regaining consciousness.
In spring 2003, five people were arrested and questioned before being released without charge.
Police have always believed there are witnesses who could hold the key to solving the case, but have yet to come forward.
Det Supt Iestyn Davies, of North Wales Police's major incident team, said: "The investigation into an unsolved murder is never closed and we will continue to explore any new evidence or intelligence that may bring justice to Paul's family.
"We will also explore any advances in DNA evidence and to this end I have recently asked our crime scene manager to conduct a further review of the forensic material gathered, to establish the possibility of any fresh evidence being obtained."
Mr Davies said he remained convinced the key to solving the case lay in the community.
He added: "I understand people are sometimes reluctant to come forward years after such a serious crime, but I'd like to reassure them we are only interested in securing that vital piece of information that will help bring this investigation to a positive conclusion."
The senior investigating officer who led the original murder inquiry, retired Det Ch Supt Chris Corcoran, said, "Fifteen years on from the brutal and fatal attack on Paul Savage as he went about his business as a local postman, it's encouraging to know that the police case is still open and that regular reviews are taking place.
"I hope someone is brave enough to contact North Wales Police in confidence and give them that vital piece of information."
Meanwhile, Mr Savage's mother, Mrs White, said she still has not given up hope of a breakthrough.
Since losing her son, she has also lost her husband, Lance, and survived ovarian cancer.
Mrs White, who now lives in Lancaster, Lancashire, with her partner Steve, said: "When I was ill, the thought of one day seeing justice for my Paul kept me going.
"I will never forget, never stop fighting. I'll campaign for as long as it takes."