Gwynedd councillor fills in potholes in his Caernarfon ward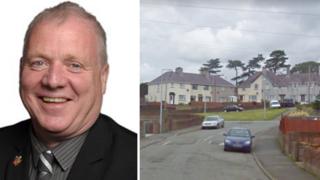 A Gwynedd councillor has taken to filling in potholes in his community, saying he wanted to do more in his role than just attend council meetings.
Roy Owen, 60, said he has been doing repairs for two years in his Seiont ward in Caernarfon due to the number of complaints he receives from residents.
He said the council had been "trying to do the work" despite budget cuts. He now spends about £26-a-week on asphalt.
The council said the work should always be carried out by a highway authority.
Mr Owen, an independent councillor, said he decided to reduce his attendance at meetings in favour of running local projects like a weekly litter pick and carrying out pothole repairs on roads.
"Cuts really get on your nerves," he said.
His comments come after the authority said in March it faced having to save £20m from its budget over the next three years.
Mr Owen said he had experience to do road repairs as he had been employed by the council until 1993 in several roles, including helping a team working on potholes.
"I go out and deal with the problem head on," he said, adding he financed the work using part of his councillor's annual allowance of £13,400.
'Inherently dangerous'
The grandfather and school governor also donates his time and van on a weekly basis to help people remove rubbish or unwanted items from their homes.
And he set up a scheme this year to cut dog fouling by providing free bags at key locations around his ward.
A Gwynedd council spokesman said: "As the public highway is an inherently dangerous environment, this work is always undertaken by the highway authority in accordance with strict national guidelines.
"We would urge anyone who has a concern regarding a specific part of the public highway to contact the council so that relevant staff can inspect the site and carry out any necessary repair work."