Gwynedd youth club cuts protest as rethink debated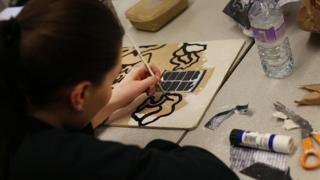 Campaigners have presented a 6,000-signature petition in protest at a council's decision to close all its youth clubs.
The protest came as councillors prepared to consider a rethink of the planned closures.
Gwynedd council's cabinet voted in March to shut 39 youth clubs as part of budget cuts.
They were due to close after Easter, to be replaced with a county-wide "hub" for 11-19-year-olds in September.
Under the proposed plan every secondary school would get a dedicated youth worker.
"Closing these clubs would be fatal for the Welsh language by reducing the opportunities for young people to use the language," campaigners said.
"It will also affect the whole community, as young people will have nowhere but the streets to socialise with each other in the evenings.
"Finally, it will have a terrible impact on the young people themselves as they lose a safe place to receive support from independent adults they can trust."
The original decision in March was made by the 11 Plaid Cymru cabinet members.
Now, all 75 county councillors are being given a chance to have their say.
Opposition Llais Gwynedd councillor Alwyn Gruffydd proposed the motion urging a rethink.
"My feeling is that this decision is one that has the potential to impact so many people, that it is only right that all members are given a chance to have their say," the member for Tremadog said.
The motion will suggest continuing with the financial support given traditionally to voluntary organisations such as the Urdd and Federation of Young Farmers.
Young Farmers Clubs have also been hit by the decision, with a £37,960 annual grant being scrapped after the current financial year.