Caernarfon bypass protest after two-year delay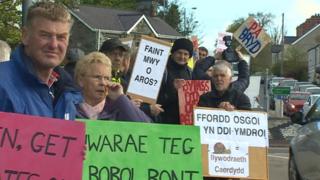 Protestors have taken to the streets to demand a start date for work on a new bypass between Caernarfon and Bontnewydd in Gwynedd.
Construction on the six-mile (10km) road was expected to start this autumn after a public inquiry ended.
But in March the Welsh Government said it needed more time to consider the "volume of correspondence" received.
Responding to the protest, it said the cabinet secretary had committed to making a decision in the spring.
WATCH: 'Someone will get hurt', says campaigner
In a joint statement Plaid Cymru's Hywel Williams MP and Sian Gwenllian AM said: "By now public frustration locally at the lack of progress and indeed the lack of any clarity from Welsh government is boiling over... progress seems to be at a standstill.
"People are really frustrated by the continual delays to the project.
"Noisy, dirty congestion in the area remains a huge problem for local people, day in and day out."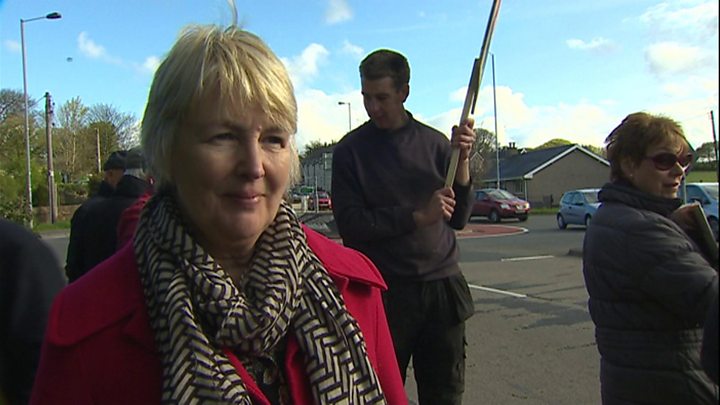 A Welsh Government spokesman said: "We understand residents want a decision on the Caernarfon/Bontnewydd bypass, however it is essential and absolutely right that sufficient consideration is given to all the evidence on what is a major project.
"We are considering in fine detail the findings and recommendations of the inspector's report and the high volume of correspondence in favour and against the proposals as part of the statutory process.
"It is vital all are fully evaluated and the cabinet secretary has committed to making a decision in the spring."