Funeral for survivor of WW2 massacre 'Ambush Alf' Davies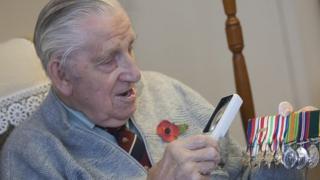 The funeral of a World War Two veteran who survived a notorious massacre in France is being held on Monday.
Alf Davies, from Lladudno, Conwy county, died on 14 April in St David's Hospice after a short illness. His funeral is being held in Seilo Chapel.
About 100 British soldiers were killed in the Wormhoudt massacre when they were captured by German SS troops as they made their way to Dunkirk.
Mr Davies's granddaughter Nia Owen said he was "very lucky and very brave".
lf he had lived Mr Davies, who became known locally as Ambush Alf, would have turned 98 on Tuesday.
He escaped the German forces by jumping into a river and making his way to the beach at Dunkirk where he was rescued.
"He went into the river and if he had made the wrong decision it's hard to imagine how things would have turned out," said his Ms Owen.