Trafford's Danny Frost returns for Colwyn Bay rematch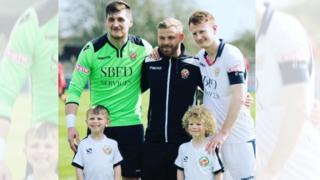 A footballer who suffered a serious head injury during a match has recovered and returned to play the last 15 minutes of the rescheduled game.
Trafford FC's Danny Frost hit a barrier at the game at Colwyn Bay on 4 April.
Thursday's rescheduled game ended 1-1 after the previous Evo-Stik NPL North match was abandoned after 65 minutes.
"Everybody has been so supportive," Frost told BBC Radio Wales' Good Morning Wales programme, adding that he "scored but the ref disallowed it".
Linesman Zharir Mustafa, from Wirral, was hailed a hero for providing life-saving treatment and there was praise for Trafford sport rehabilitator Jake North who "lay on a soaking pitch for 50 minutes supporting Danny's head".
The 29-year-old said it was "nice to see everybody" but admitted he had little recollection about the incident after suffering a concussion.
Colwyn Bay had been leading 2-0 before he was hurt smashing into the perimeter barrier.