Forgotten 5th Marquess of Anglesey photos 'cause stir'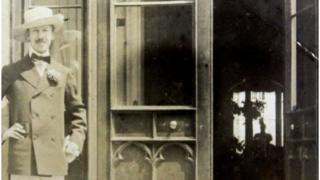 Forgotten photographs of the flamboyant 5th Marquess of Anglesey have been unearthed and will go on display in an exhibition to celebrate his life.
Henry Cyril Paget, who inherited the title in 1898, was known for his lavish lifestyle, theatre shows and parties.
The uncatalogued images are believed to be the only ones of him and his theatrical troupe in the gardens of Plas Newydd Country House and Gardens, his ancestral home on the Menai Strait.
They will now go on display there.
"We couldn't believe it when we found these images. None of the team had ever seen them before so it caused quite a stir," said Karen Allen, conservation assistant at Plas Newydd.
"This new discovery is significant, as it has always been understood that all other photographs, collection pieces and references to the Marquess were either sold in the infamous Great Anglesey Sale in 1905 or subsequently lost or destroyed.
"To see these more candid images of the Marquess and his acting company enjoying the Plas Newydd gardens really give his history a sense of place."
The exhibition is part of a project to create a room in Plas Newydd dedicated to the Henry Cyril Paget.
It will also include theatre programmes and a mock-up of the Gaiety Theatre - a 150 seater converted chapel built for the Marquess to perform plays at Plas Newydd and removed following his death.
Paget was noted for squandering his inheritance on a lavish social life.
By 1904, despite his inheritance and income, he had accumulated large debts and was declared bankrupt.
After his death, the Great Anglesey Sale took place, where some 17,000 lots were sold, from his jewellery collection right down to ping pong balls.