Osprey returns to Porthmadog Glaslyn nest for 15th year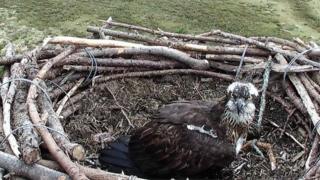 An osprey has returned to its nest for the 15th year running, a north Wales nature reserve has confirmed.
The female, known as Mrs G, returned to Glaslyn Wildlife Centre in Porthmadog just a few days before she was joined by her partner, Aran.
Trustees at the project said it was "extraordinary" to have the same bird return 15 years in a row.
Steve Pritchard from Glaslyn said the site was "the Mayfair of nests" in terms of location and resources.
'Ready for eggs'
Nesting ospreys were absent from Wales for 400 years before projects like Glaslyn began.
Mr Pritchard said the location in the highest tree on a flood plain, less than a five minute flight to the coast or to the valleys of Snowdonia with plenty of fish and water available, made it a prime spot for the birds.
"It's fantastic news for us that both birds have come back. When they migrate to west Africa in September we always worry they won't come back, but we're lucky that they both arrived back, just a little bit late because of bad weather over southern Spain," he told BBC Radio Wales.
"They got there and we're ready for eggs.
"It's such an absolute privilege to have them on the Glaslyn flood plain."
Other birds are also returning.
"Monty came back as well. He was a little bit late too. Unfortunately as yet his original partner Glesni hasn't come back. There's still a little bit of time left but he has found another girlfriend," Mr Pritchard said.
"The most important thing for ospreys when they come back to Europe is to breed. This is their home, this is where they breed, this is where it's special for them."
Wales currently has four known osprey nests at Glaslyn, Cors Dyfi near Machynlleth and Llyn Clywedog near Llanidloes, both in Powys, and one on private land.
"We've had plenty of chicks from Glaslyn who have gone on to breed in other parts of the UK. Mrs G has fledged 33 youngsters and the five that we know of who are breeding have produced at least 62 grand-chicks for her," Mr Pritchard said.
"So we can say that Glaslyn is almost populating the rest of the UK singlehandedly."