Smuggler jailed after 3.4m cigarettes found in lorry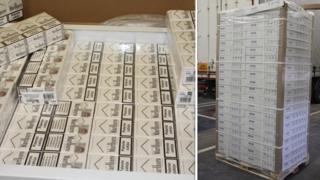 A lorry driver caught smuggling 3.4 million cigarettes has been jailed for evading nearly £1m in customs duty.
James Francis O'Reilly, 67, of Highbury, London, was caught arriving on a ferry at Holyhead, Anglesey, with the packets hidden in 13 pallets marked "electrical items".
He was stopped in October 2017 and admitted the charge but said he was paid £500 a trip by those profiting.
O'Reilly was sentenced to 14 months at Caernarfon Crown Court.
He was also given a concurrent nine month term after a CS gas canister and lock knife were found in the cab of his lorry.
In total, excise duty on the cigarettes would have amounted to £950,000.
O'Reilly said he felt resentment towards those profiting as he could not afford to stop working and wanted to provide for his family in Cavan, Ireland.
Judge Huw Rees accepted he had been acting in a limited role for someone else but said he had been "extremely foolish".
He ordered that the smuggled cigarettes should be destroyed.