Man died after hospital failed to spot blood clots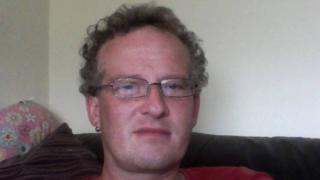 A man died a day after a hospital failed to spot signs of treatable blood clots, an inquest has heard.
Simon Willans, 42, of Bryngwran in Anglesey, died from a pulmonary embolism in an ambulance after he collapsed at his parents' home.
He died on 27 January 2016, two days after being admitted to Ysbyty Gwynedd, Bangor, by his GP as an "urgent case".
North Wales Police had launched a gross negligence investigation but no prosecutions were pursued.
Concerns about Mr Willans's care at Gwynedd Hospital had caused assistant coroner Nicola Jones to issue a prevention of future deaths report, long before the full inquest.
The report had said Mr Willans was apparently discharged by a nurse uninvolved in his care, despite being diagnosed with anxiety and hypotension.
At the inquest, pathologist Dr Mark Lord noted the right calf was swollen due to deep vein thrombosis.
'Very busy'
Mr Willans' GP Dr Huw Lloyd Evans told the inquest he had phoned the hospital, believing Mr Willans needed urgent admission.
"They let me know they were very busy and asked if referral would be more appropriate," he said.
"In the past I have pressed harder for an admission that day. But it's ended up in an argument.
"I would have preferred him to be seen that day but I compromised on him being seen the next morning."
Ffion Simcox, an advanced nurse practitioner said she spotted the swollen leg and arranged for more blood tests and a scan. She also questioned Mr Willans about his health. A Doppler test found no major DVT.
"I thought a leg 3.5cm [1.4in] bigger justified a scan," she said.
Mrs Simcox showed a doctor and said she had gone "as far as I could" to discover the cause of swelling.
She suspected DVT and a potentially life-threatening pulmonary embolism, a blocked blood vessel in the lungs - but did not have the authority to order further tests.
The inquest continues.