Caernarfon to Bontnewydd bypass work faces further delays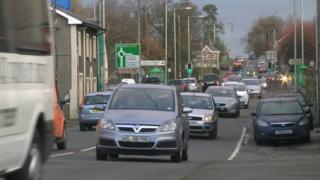 A decision on whether to build a new bypass between Caernarfon and Bontnewydd in Gwynedd faces further delays, it has been confirmed.
In October, the Welsh Government said it would consider a report and make a final decision by the winter.
But it now says more time is needed to consider the plans given the "volume of correspondence" it has received.
In a joint statement, the local Plaid Cymru AM and MP said that "any further dithering would be unacceptable".
A public inquiry looking into the plans was held in June last year, almost 10 years since the idea of a bypass was first mooted.
The original plan was to start work on the six-mile (10km) bypass in the autumn, finishing by the end of 2019.
It is hoped the new road will help ease congestion on the A487 between Plas Menai and Llanwnda.
But the project still needs the final go-ahead.
Arfon AM Sian Gwenllian and MP Hywel Williams claim "a number of promises" have been broken and "constituents are understandably frustrated with perennial delays".
"The bypass is already two years behind schedule. We were told by the Welsh Labour Government that a decision would be taken in the New Year," they said in a joint statement.
"Well, the New Year has long since passed and we are still waiting for an announcement."
Residents of Saron and Llanfaglan are among those who have raised concerns about the number of commuters using the road through their villages to avoid Bontnewydd during busy periods.
A Welsh Government spokesman said it was "considering carefully the findings and recommendations" following the public inquiry.
"It would be deeply disrespectful and in nobody's interest to rush to a decision without considering the huge number of submissions in favour and against the proposals," the spokesman said.
"A decision on this scheme will be made during the spring."