Colwyn Bay pier: Bid to save murals amid demolition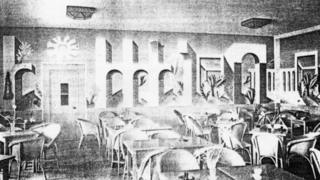 Work has begun to try to save historical murals from the pavilion of Colwyn Bay's pier as it is demolished.
Work by war artist Eric Ravilious and murals by painter Mary Adshead formed part of the decoration inside the art deco pavilion when it was constructed in 1934.
Experts initially said the murals would be impossible to remove but staff are working to retain them.
Victoria pier is being dismantled after it partially collapsed into the sea.
Conwy council conservation staff have already saved one wall of Ravilious's mural and are hopeful they can save a second section.
The most important motifs from Adshead's murals have also been carefully removed.
Conservation officer Huw Davies said: "Both Eric Ravilious and Mary Adshead were well-known artists in their time.
"Eric Ravilious was an official war painter, but failed to return from a mission in 1942.
"Only two murals of his survive, and this was the last one in position. It's historically very significant.
"His work decorated the walls of the tea room and featured an underwater ruin scene with pink and purple seaweed.
"Mary Adshead was the daughter of the man who designed the pavilion - the previous building had burned down. Her work was on the walls of the auditorium."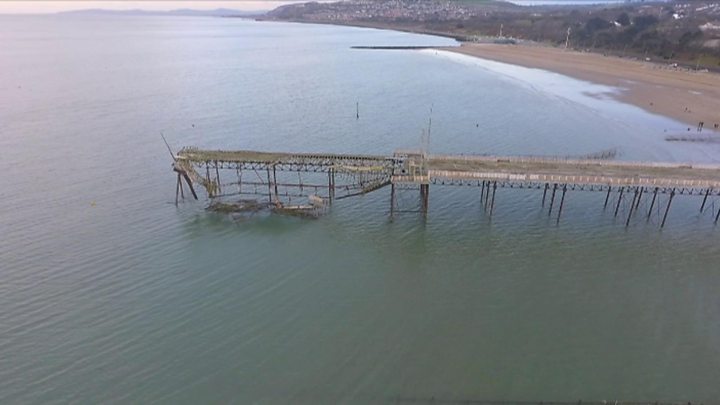 Colwyn Bay pier closed in 2008, and its condition deteriorated while a legal battle continued over its ownership.
Conwy council, which now owns the Grade II-listed pier, agreed the unsafe structure should be dismantled, but parts of the structure are being stored to allow a trust to investigate rebuilding it.
Mr Davies added: "The murals haven't actually been on show for some time. One wall of the Eric Ravilious work has been lost because of water getting into the building, and the whole thing has been covered over with several coats of paint and plaster.
"There's a considerable job to do to restore them. For now, they're being stored safely in a dry place.
"We're relieved that we've managed to save them. Specialists said it would be almost impossible and we risked ending up with a pile of rubble.
"The next stage will be to find a home for them. If the trust succeed in rebuilding the pier, we hope they could return one day."