Minor earthquake felt in Gwynedd an 'audible rumble'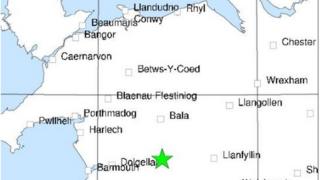 A minor earthquake has been recorded in Gwynedd, the British Geological Survey has said.
It was described as a "definite but indistinct low frequency audible rumble".
It was of 2.7 magnitude - a level classed as only able to cause minor damage.
The earthquake was felt in Dinas Mawddwy, Corris, Llanelltyd and Cwm-y-Glo, Gwynedd.
It was of such a low level, it would have been inaudible over a television or radio and could not be felt through bare feet on carpet over concrete slab floor.
The tremor comes after a 4.4 magnitude earthquake was felt over all of Wales, most of western England, as far east as London and as far north as the southern edge of the Lake District, in February.