Storm Emma: Anglesey polystyrene clean-up intensifies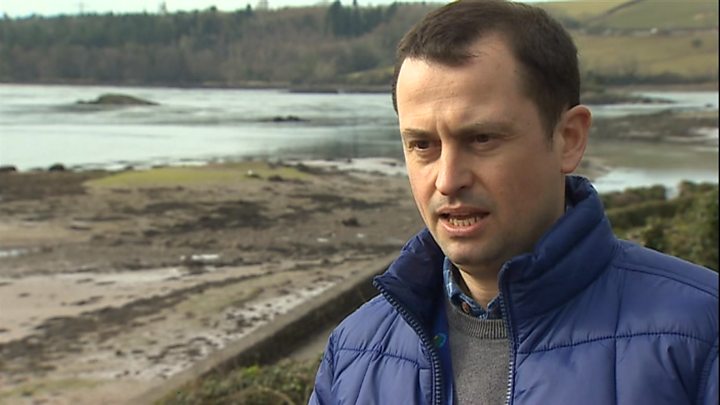 A major clean-up effort has been stepped-up in a bid to protect Anglesey beaches from polystyrene pollution.
Polystyrene debris has spread from damage caused at Holyhead Marina as it was hit by Storm Emma last week.
The waste, which came from broken floatation devices, is thought to have spread along Anglesey's 26-mile (41km) coastline.
Anglesey council said it was intensifying its efforts to protect beaches and wildlife.
About 80 boats, some of which sunk, were damaged in last week's gales, and polystyrene floatation devices used to support the marina's walkways split open.
It is estimated about 18 miles (29km) of coastline, between Holyhead and Rhosneigr, and eight miles (13km) between Holyhead and Carmel Head, are now affected by the pollution.
Cllr Carwyn Jones, cabinet member for economic development, described the situation as a "nightmare", which could threaten the island's economy.
"Tourism for us here on Anglesey is a very important sector," he said.
"It amounts to about a quarter of a billion turnover per year for our businesses so any damage to our coastline and our beaches we take extremely seriously.
"Hence we want assurances that this contamination will be held here in the port of Holyhead, that we won't see more of this polystyrene coming out of the port."
BBC Wales understands the clean-up operation is focused on Church Bay beach, known as Porth Swtan, between Carmel Head and Holy Island.
Council chief executive Gwynne Jones said the authority was moving quickly to protect "Anglesey's beautiful coastline, beaches and wildlife".
"Given the reports we've received so far, and the work undertaken by our own maritime staff, we need to collect and dispose of the polystyrene as soon as possible," he said.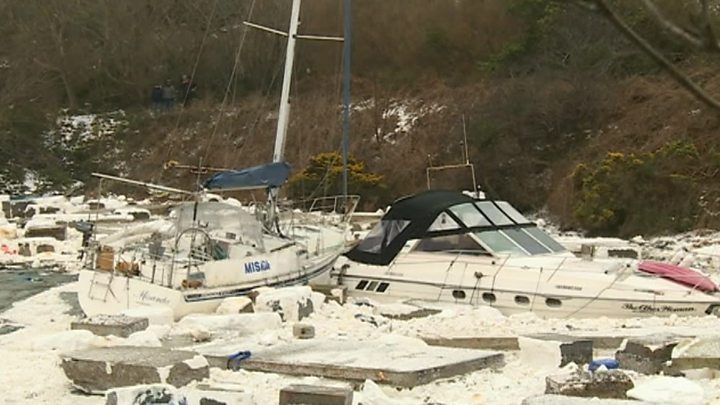 The Maritime and Coastguard Agency, Holyhead Marina, Anglesey council, North Wales Police, Stena Line - which runs Holyhead Port - and Natural Resources Wales are involved with the clean-up.
Harbourmaster Kevin Riley said Stena Line was working closely with other agencies to contain the spread of the polystyrene.
"You've got the situation where some of the product has gone outside the port limit so there are several ongoing planning meetings looking at the next step forward," he said.
"It is very concerning to all parties involved."
People are being asked to take photographs of any polystyrene in a bid to help the council.
A warning has been issued to members of the public not to pick up marine flares or debris which may wash up on beaches.
The council said if people did collect polystyrene they must use gloves and place it in bags above the high tide mark to stop it being washed out to sea.