Anglesey kayak-capsizing: Joe Rowlands saves dad Paul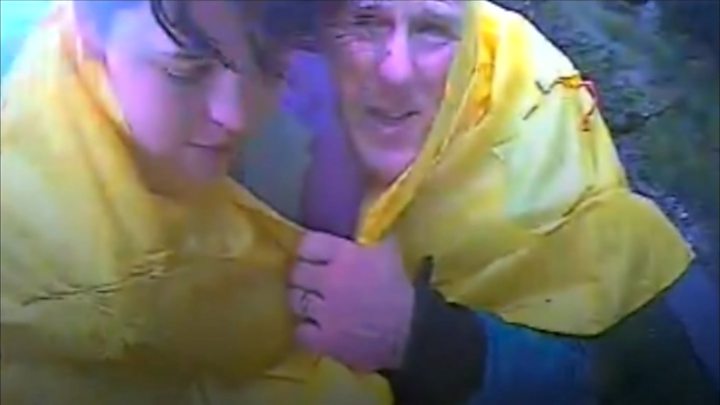 A man says he owes his life to his 13-year-old son who resuscitated him after they capsized while kayaking off the Anglesey coast.
Firefighter Paul Rowlands, 50, and son, Joe, got into difficulty near Ynys Dulas, a small island, and tried to kick their way to shore.
But Mr Rowlands, from Cheshire, passed out and says his son had to drag him onto rocks and revive him.
The pair were rescued after wife and mother Julie Ann raised the alarm.
Cheshire Fire and Rescue Service station manager Mr Rowlands, from Nantwich, an experienced kayaker and swimmer, believes he was overcome by the cold temperatures of the water.
He says he realised they were in trouble when they were not getting closer to shore, despite his best efforts.
"Joe said he thought we were going to die and his final wish was a kiss from me," said Mr Rowlands.
"Although I reassured him that we were going to be fine, the thought also crossed my mind and I literally feared for both our lives."
Chest compressions
Mr Rowlands says he told his son he loved him and they kissed before setting off swimming.
It was only after receiving medical help that Mr Rowlands found out about his son's heroic actions on 22 February.
He says he was dropping in and out of consciousness as Joe dragged him on to rocks and began chest compressions and performing mouth to mouth.
After about two hours, the pair were helped to safety by rescuers, including a coastguard helicopter crew and RNLI lifeboat volunteers.
'Extremely proud'
Mr Rowlands adds: "Without this resource both myself and Joe wouldn't be here today, so I can't thank them enough.
"Joe also saved my life that day and was extremely courageous in a life and death situation.
"As a reward I bought him the phone he'd always wanted.
"But I know I can never really repay him for saving my life and I'm extremely proud of him."