Couple's 'shock' after baby born at roadside in snowstorm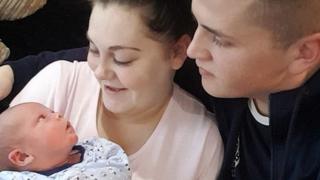 A woman forced to give birth at the roadside during a snowstorm stayed calm despite the shock, her partner says.
Angelique Jackson was being driven with her mother to hospital through last week's storms by partner Ben Spillane when she felt the baby coming.
Son Ross was delivered by his grandmother minutes after they pulled over on the A548 in Pensarn.
Ms Jackson, 24, of Kinmel Bay, Conwy county, said she was "overwhelmed and so in love with our beautiful son".
As her mother Tina delivered the baby, Mr Spillane, 21, phoned the emergency services.
"I was very panicked but Angelique was brilliant," he said. "She was shocked but generally stayed quite calm.
"Tina was amazing, I don't know what I'd have done without her."
Mr Spillane said his partner had had "tightening" pains on the evening of 1 March - the baby's due date.
The couple had planned a home birth but were told to drive to Glan Clwyd hospital, Bodelwyddan as midwives could not reach them in the bad weather.
Mr Spillane said: "About 10 minutes after we left, Angelique said, 'Mum I can feel his head coming' so I pulled over.
"Tina got into the back with Angelique, while I phoned 999."
About two minutes later, at 23:05 GMT, baby Ross was born.
"I just remember seeing the baby's face on Angelique's chest," Mr Spillane said.
"I was told to make sure his airways were clear and to find a piece of string to tie around the umbilical cord.
"I used one of my shoelaces - I've never untied my shoes so fast in my life."
Paramedics arrived to transfer Ms Jackson and Ross to hospital and they were allowed home a few hours later.
"Everyone did their bit and we're all happy and healthy," Mr Spillane added.