Adventurer Ash Dykes' China Yangtze River record attempt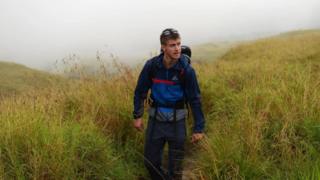 A Welsh adventurer will attempt to set a world record to be the first person to walk the length of China's Yangtze River solo.
Ash Dykes, from Old Colwyn, Conwy county, will take a year to complete the 4,000-mile (6,400km) journey from west to east China.
Mr Dykes will set off in June and will travel only on foot.
He said he wanted to raise awareness of the county's biodiversity and uncover a side to China westerners rarely see.
The Yangtze is the longest river to flow through a single nation, running through 11 provinces.
Mr Dykes will set off from its source in the Tibetan Plateau and will face sub-zero temperatures trekking across the Jianggendiru Glacier, before traversing wetlands, mountains, valleys and cities such as Shanghai, to reach the point where it flows into the East China Sea.
As well as difficult terrain, he will encounter China's native wildlife, including black bears, wolves, giant hornets, and Chinese cobra.
In preparation for the expedition, Mr Dykes has completed an intensive fitness regime and often trains wearing an altitude mask and weighted vest to recreate the conditions he will experience.
Mr Dykes said: "I know China is going to push me to my physical and mental limits, but I'll be as prepared as possible to face the kinds of tests such a diverse and, in some places, uninhabitable landscape will throw at me."
"I'm really going off the beaten track in China, but I always believe that my training, mental resilience and the kindness of other human beings will help me make it through," he added.
If successful, the challenge will be his third world-first since he became the first person to trek solo and unsupported across Mongolia in 2014.
A year later he hiked the length of Madagascar, an expedition which nearly cost him his life after he contracted malaria.