London charity worker banned for driving 122mph on Welsh road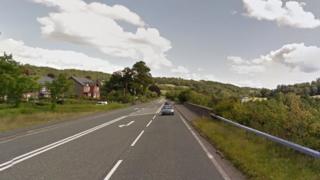 A charity worker has been banned from driving after being caught speeding at 122mph when a police officer heard the noise of a car accelerating hard.
Alex Menhenett was driving a Nissan GTR sports car more than twice the 60mph speed limit on the A5 at Dinmael, near Corwen, Wales in October 2017.
At Mold Magistrates' Court, the 32-year-old, from South Croydon, London, admitted speeding and was banned for 56 days and fined £760.
Menhenett said it was a "misjudgement".
Prosecutor Alun Williams described it as "a crazy speed" on a single carriageway road and magistrates said it was "quite deplorable".
Menhenett was caught by a police officer holding a speed camera who had heard the noise of the car accelerating hard from the Corwen direction, the court heard.
He represented himself and said: "It was a complete misjudgement on my behalf. "I have no excuse."
Menhenett was also ordered to pay £85 costs and a £76 surcharge.