Fire damaged Conwy care home community 'split-up'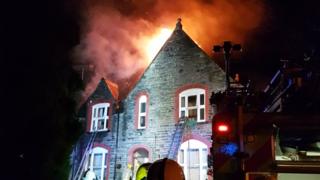 A close-knit care home community is like a family that has been "split-up" after a devastating blaze.
Concerns have also been raised that Welsh-speaking residents are now being cared for in English-speaking homes following last month's fire.
A meeting about the Old Vicarage home, near Pandy Tudur, Conwy county, heard it could be "months, maybe even years" before rebuilding work is completed.
Six residents needed hospital treatment and 26 have been moved to new homes.
Lilian Williams' mother is 93 and was in the Old Vicarage nursing home but is now being housed 18 miles away.
She said: "My mother is in a home in Rhyl at the moment, but she wants to get back to her home.
"The care is excellent there, but her first language is Welsh and the home where she is has mainly English-speaking staff."
Jean Carthy, whose close friend, Cath Mansell, who was living in the home at the time of the fire, said: "She had a sore throat with the smoke and was quite frightened because she'd been calling for help.
"But by five that evening, she was out of hospital and in a nursing home in Colwyn Bay. Social services sorted things really quickly.
"Now she wants to be back at home, and has been counting down the days in her diary."
Councillor Garffild Lloyd Lewis said: "There's a whole family that's been split up - the people living in the Old Vicarage and their relatives and friends were a close group.
"It's a long road ahead of us. It might take months, maybe even years.
"So we wanted to bring people from the council together with families and friends because we'll be working closely with them over the next few months to make sure the residents continue to be looked after."