Oscar pride for former Holyhead ferry worker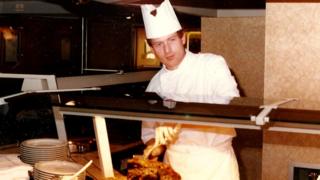 A ferry worker turned film maker has spoken of his pride after his work was nominated for an Oscar.
Storyboard artist Graham Wyn Jones was part of the production design team for the 2017 film Beauty and the Beast.
The 57-year-old originally from Holyhead said it was a "wonderful experience" being involved in a film that "touches people all over the world".
The 90th annual Academy Awards will be held on 4 March.
Mr Wyn Jones found he had a talent for drawing from a young age, but took a job on the Irish Sea ferries after leaving school to support his family.
"I was the bread winner for my brothers and sisters after our parents passed, so I had to put aside any aspirations and ideas that I had," he said.
When the ferry operator made workers redundant in 1991, the opportunity came to study art at Coleg Menai and later at Newport film school.
"I grabbed it with both hands," he said.
He said the role of a storyboard artist was to turn the written word into visuals.
"It started many years ago with Walt Disney."
It has taken Mr Wyn Jones about 20 years to establish himself in the film industry.
"It's a catch 22 situation because nobody knows your work until you get work," he said.
"You plod through small feature films and commercials to make a name for yourself until people begin to recognise your quality.
"Eventually you begin to get bigger and better projects with more budgets and funding."
Mr Wyn Jones will not be walking the famous red carpet in Los Angeles next month, but said he felt "very proud, privileged and honoured" to have been involved in the making of Beauty and the Beast.