Mental health nurse struck off over sex with patient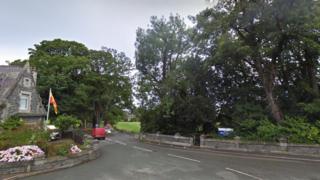 A mental health nurse who had sex with a patient and offered to perform a sex act on a colleague in return for money has been struck off.
Nicola Kingston was based at Bryn y Neuadd Hospital in Conwy county.
A misconduct hearing of the Nursing and Midwifery Council (NMC) was told that Ms Kingston slept in the patient's bed in hospital during a night shift.
The panel concluded she had participated in sexual activity with him in a tent and at her home.
It also heard she had offered to perform a sex act on a colleague for £50 "because she wanted to go to the Next sale".
The hospital in Llanfairfechan provides adult mental health and disability services, and hosts a medium secure mental health unit.
The panel heard Ms Kingston engaged in an inappropriate relationship with the patient between December 2013 and February 2015.
The hearing was also told that Ms Kingston had sent one colleague topless pictures of herself and showed them to another. A colleague also saw pictures of naked men that Ms Kingston had on her phone from a dating website.
The NMC panel heard she had admitted some charges. It was noted that Ms Kingston accepted her previous failings and expressed remorse for her actions. The panel also heard that Ms Kingston had had ongoing health conditions triggered by difficult life events at the time and there was evidence she had acted out of character.
But the panel said: "It was of a view that engaging in a sexual relationship with a vulnerable patient brought the profession into disrepute."
It said the aggravating factors were the length of the relationship with Patient A, planned meetings and the vulnerability of the patient.
The panel found that she was no longer fit to practise and concluded that her actions "represented a significant departure from the standards expected of a registered nurse and were fundamentally incompatible with remaining on the register".