Schizophrenia stops me getting a job, says Anglesey woman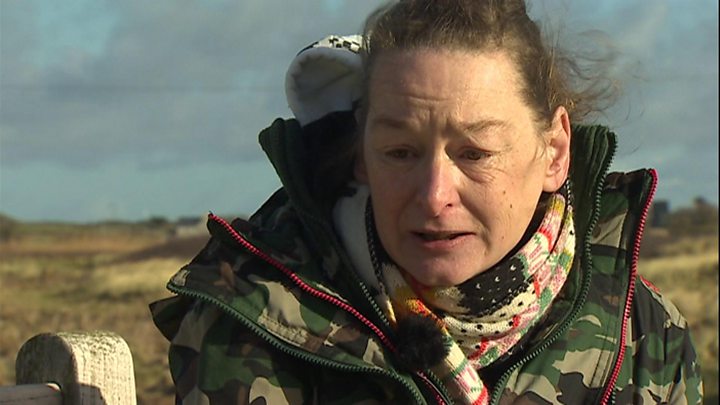 A woman who has schizophrenia says that myths surrounding the condition have affected her chances of getting a job.
"I want to work, I want to give back to society," said Siobhan Davies, from Anglesey. "With schizophrenia I think there is still an element of fear."
Mental health charity Hafal said figures showed only 8% of people with schizophrenia were in work, even though 90% wanted to have a job.
It said more awareness of the "misunderstood" condition was needed.
Ms Davies, a 45-year-old mother-of-four from Rhosneigr, said: "I want to be a part of the working world, but there are so many hurdles to overcome, and the biggest one is that I've been in care for seven years, and potential employers immediately ask themselves is she going to go back?"
She said she started hearing voices when she was 16 and that all the characters in her head - which she hears constantly - have names and personalities.
"A lot of people are talking about depression and anxiety, even personality disorders, which is fantastic, there is a need for that to happen, but with schizophrenia I think there is still an element of fear there," Ms Davies told the Newyddion 9 programme.
"The media doesn't help, it shows schizophrenics as psychotic killers, or what happens when they stop taking their meds?
"All this fear-mongering basically. And, it's actually a lot more common than you realise. One in every 100 will develop schizophrenia in their life.
"So there's a real need for people to speak out more openly about it, to get people to understand the mechanics of the illness, how it affects people, and more importantly how they can help, because being accepted into a social situation, being accepted to a community and actually being a part of that community is a huge part of dealing with the condition."
'Treatable illness'
Nicola Thomas, Hafal's director of public and corporate affairs, said while attitudes to mental health had changed considerably in recent years, there remained a stigma around schizophrenia.
"Serious mental illnesses such as schizophrenia are still misunderstood by many, and this can make it more difficult for people with schizophrenia to get back into work," she said.
"The fact is that schizophrenia is a very treatable illness. Many Hafal clients with schizophrenia have successfully worked towards recovery and achieved key employment and education goals."
She said the charity's recent Big Lottery-funded initiative, "Short Steps", saw hundreds of people with a serious mental illness re-enter work, which had a drastic effect on their quality of life.
It is also working with peer mentoring service Cyfle Cymru to help people get the skills needed to go back to work.
A recent survey of 1,500 people by the Rethink Mental Illness campaign suggested the condition is widely misunderstood.
One in 100 people is affected by schizophrenia during their life, but 45% of those surveyed thought the illness was much more common.
Half mistakenly thought the illness was defined by a split personality and a quarter believed it definitely led to violent behaviour. But the reality is very different, the charity claims.
'I'm lucky'
Ms Davies said despite this, she is looking forward to the future with hope.
She is currently looking for volunteering work and is having help building up her CV.
"I see the future as something I can live for now, for a long time I did not, but my life is moving forward," she added.
"I'm a very lucky person. I have lots of very good friends and very strong family, who couldn't be more supportive and that makes a huge difference."