£95,000 funding to improve Beaumaris landslide road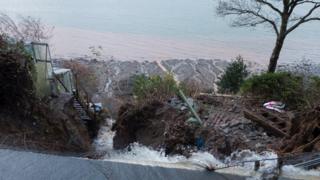 Around £95,000 has been put aside to help deal with landslides on the A545 between Menai Bridge and Beaumaris.
Anglesey council has agreed to commission designs for strengthening and improving the road, which has been closed several times in recent years.
The latest landslide came in November 2017 and temporary traffic controls remain in place.
The council hopes the designs will help secure funding needed to secure a long-term solution for the road.
Councillor Bob Parry, who has responsibility for highways, told members of the executive board on Monday that the Welsh Government had "indicated funding would be available over the next few years".
Seiriol ward member, Carwyn Jones said landslides have caused "untold traffic congestion" and have hit residents and local businesses hard.