Llanfairfechan beach razor clam ban 'not working'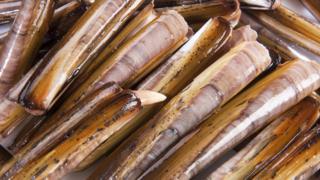 A ban to stop the mass harvesting of shellfish on a north Wales beach is not working, campaigners have said.
The Welsh Government has extended its ban on razor clam gathering at Llanfairfechan, Conwy county until 31 December 2018.
And a spokesman said there has been no gathering since August 2017.
But the AM for Aberconwy, Janet Finch-Saunders, said "collectors are still arriving" and called for better enforcement.
Concerns about the harvesting of razor clams were highlighted in 2013, when more than 100 people were photographed on the beach.
Council officers later seized their gathering equipment.
Vanessa Dye presented a 459-signature petition to the Welsh Government last October, calling for a study to ascertain the health of the clam beds, to draw up sizing regulations and to impose a "closed season" between May and September.
Ms Dye, who lives in the area, said: "The gatherers are still coming and taking the clams... it's a big environmental concern for us."
She described the presence of gatherers as "an environmental disaster waiting to happen".
Speaking at the petitions committee on Tuesday, Ms Finch-Saunders said the community "are really annoyed about this".
She said signs were in place notifying gatherers of the ban, but "on occasion there hasn't been any officers to enforce".
Sgt James Keene, from North Wales Police, confirmed "no offences had taken place" and "everything was and remains above board".
"Many of those picking the clams bring their extended families with them, including youngsters and elderly relatives," he said.
"We will continue to monitor the situation at Llanfairfechan."
A Welsh Government spokesman said: "There has been no razor clam gathering at Llanfairfechan since the bed was closed on 18 August 2017 and officials routinely monitor the area.
"Officials also work with other agencies and this has included a multi-agency operation with the National Crime Agency to investigate whether victims of modern slavery were involved in the fishery.
"No infringements of any kind have been detected."
He added that a survey had been commissioned which will inform "any management plan that may be required".