Wassailing fruit trees in Conwy on Saturday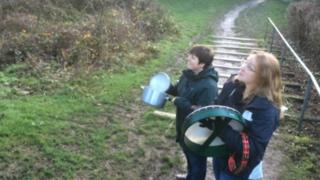 A group of people will be banging together pots and pans to make as much noise as possible in Conwy on Saturday.
Conwy Orchard Community Group are performing the traditional 'Wassail' which was supposed to see off spirits and ensure a good crop.
Like carol singing, people would tour communities at the end of the Christmas season, singing songs in the hope of being rewarded with food and drink.
The event takes place at the town walls 18:30 GMT.
There is evidence that there has been an orchard at Conwy since the walled town was built in the 1280s, though the current apple and pear trees are thought to date from the 19th Century.
Wassailing is still practised across the UK but is most prevalent in the West Country.