Irish Ferries to build new ship for Holyhead to Dublin crossing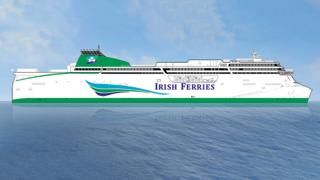 A new "super cruise" ferry will carry passengers from Holyhead to Dublin from 2020 after Irish Ferries ordered a new ship.
The €165.2m (£146.6m) vessel will take up to 1,500 cars or 330 freight trucks across the Irish Sea and is expected to weigh about 67,300 tonnes.
It will be the largest cruise ferry in the world in terms of vehicle capacity.
It will be one of two super-cruise ships making the 3hr 15min journey between Holyhead and Dublin.
Irish Ferries has previously warned of a potential "significant displacement of traffic" from Holyhead to ports in northern England and Scotland if Brexit brings stringent customs checks at Welsh ports, while more relaxed arrangements remain on the land border between the Republic and Northern Ireland.
But Eamonn Rothwell, Chief Executive Officer for Irish Continental Group, the owners of Irish Ferries, said the new ship "underpins the confidence" they have in their markets, which provide crossings to Wales and France from the Republic of Ireland.
"The construction of a cruise ferry of this size offers both additional capacity and an enhanced experience for both our tourism and freight customers," he added.