Wylfa's nuclear waste removal delayed by machinery snags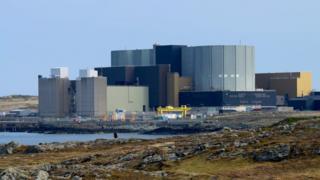 The removal of all nuclear waste from Anglesey's Wylfa power station will take almost a year longer than planned.
The decommissioning process at the site, which closed in December 2015, has been hit by delays following problems with machinery.
About half of the fuel has been removed from the plant and work to remove fuel was expected to be completed by the end of 2018.
Operator Magnox has now said it will not be completed until November 2019.
The site's two reactors held 49,000 fuel elements which have to be cleared as part of the decommissioning process.
But the work has been delayed because the 50-year-old machine used to remove them needed new parts.
Wylfa is the last of Magnox's 12 UK power stations to be switched off and, across the firm's sites, the cost of the process has almost doubled to an estimated £6bn.
It will take more than 100 years for the site to be fully cleared.
Horizon wants to build a replacement nuclear plant, Wylfa Newydd, next to the site, which would operate for 60 years and generate electricity for around five million homes.
But the proposals have to overcome planning and cost hurdles - the "strike price" for the electricity generated - before the plant can get the go ahead.