Deadly virus could 'wipe out' Anglesey's red squirrel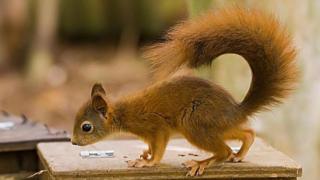 There are fears a deadly virus could wipe out Anglesey's red squirrel population "in a matter of months".
Squirrel pox is usually carried by grey squirrels, but can be fatal in the red species.
Three dead squirrels have been found in the Bangor area of Gwynedd, and Red Squirrel Trust Wales fears infected squirrels could travel across to Anglesey.
There are about 800 red squirrel on the island.
Holly Peek, red squirrel ranger for Gwynedd and Anglesey, said there are lots of red squirrels near bridges linking the two areas, and if an infected squirrel went over to the island "it would be devastating".
"Over the past 20 years we've brought the population on the island from 40 to 800 and all that population would be at risk," she said.
The trust is appealing to the public to help stop the spread of the virus by asking anyone who finds a dead or sick squirrel to report it.
Symptoms of squirrel pox include scabs, blisters or grazes on the feet, nose, mouth and eyes. The squirrel may also appear sluggish.