National Eisteddfod 2019 to be held in Llanrwst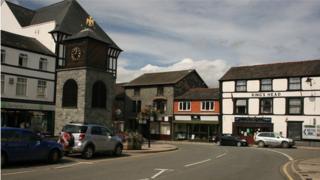 The 2019 National Eisteddfod festival will be held in Llanrwst, it has been announced.
Chief executive Elfed Roberts, said it would be 30 years since the festival last visited the Conwy Valley.
The announcement was made following a meeting of the National Eisteddfod Council in Aberystwyth on Saturday.
Llanrwst was chosen over Abergele, also in Conwy county, to host the event and council leader Gareth Jones congratulated the town.
"We'll be supporting the Eisteddfod committee with their arrangements over the next 18 months as they prepare for their event," he said.
Trystan Lewis, who chairs the local committee, said: "Even though the Maes will be in Llanrwst, it's going to be an Eisteddfod for the whole county, and the challenge I've got is to get everybody on board - Welsh speakers and non Welsh speakers - to be a part of this exciting Eisteddfod."
Elfed Roberts said the committees had all been created and were already "hard at work".
"We are looking forward to starting the work at grassroots level across the whole of Conwy county, to ensure the success of the project and the festival in the area," he said.
Looking back on this year's festival on Anglesey, Mr Roberts said the event had left a surplus of £93,200 despite significant additional costs due to bad weather and security requirements.
He said: "Although we had bad weather during the first weekend, it was a memorable Eisteddfod, and we are very grateful to the people of Anglesey, our terrific volunteers and visitors for this."
Looking ahead to the 2018's urban experimental festival in Cardiff Bay, the council heard the local committee there was already more than half way to reaching its fundraising target of £320,000.
But Mr Roberts said there was still work to do to solve a number of different issues - one being that land in Cardiff Bay belongs to many different companies - and discussions are ongoing with them about getting permission to use it.
He said: "It'll be different because of the location. But it's important to remember that there'll be activities in Cardiff very similar to what we had in Anglesey."
Elfed Roberts is due to retire after next year's Eisteddfod.
The Eisteddfod hopes to appoint a new chief executive to be in post by June 2018 so they can work alongside Elfed Roberts during the festival in Cardiff Bay in August.