Conwy four-weekly bin collections move a step closer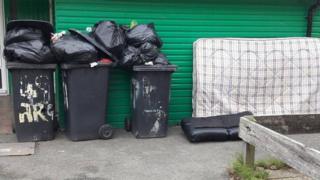 People in Conwy county could soon become the first in Wales to have their refuse bins emptied once every four weeks.
A trial involving 10,900 properties in the area increased recycling and reduced waste, council officials said.
They recommended rolling it out to everyone, with recycling and food waste still collected every week.
Councillors have yet to approve the plan and will meet later this month.
The year-long trial of four-weekly refuse collections - the residual waste destined for landfill - was brought in to replace fortnightly collections in September 2016.
At the same time, three weekly collections were introduced as standard for all other households.
A report to the council's scrutiny committee said more waste had been recycled in areas where bins were only emptied once a month.
"The move from fortnightly refuse collections to less frequent collections has increased recycling and reduced refuse in Conwy," it said.
"In three weekly areas, recycling increased by 5% in comparison to an increase of 14% in the four weekly areas. The households in four weekly areas reduced the amount of refuse placed in their wheelie bins by 31% in comparison to 20% in the three weekly areas."
The council's recycling and waste policy states that properties with fewer than six residents are restricted to one wheelie bin for household waste and that overflowing or open bins will not be collected.
Residents who have taken part in the trial said larger families had struggled more, with some taking extra bags to the dump or negotiating the use of space in neighbours bins.
Alun Jones, who took part, said he had managed to cope with the change, adding that he recycled plastics, cardboard, paper and garden waste.
"You've got to keep on top of it, that's the only thing," he said.
"If you do let it go for over a week it does pile up."
But Wyn Salisbury, who has four adults and a child in his house, said: "If you have a large family like we have four weeks is far, far too much.
"We have managed but it's been a struggle in the management."
Earlier this year, Councillor Bill Darwin, who represents Kinmel Bay, claimed the bin changes had caused an increase in rats, seagulls and flies - but the council said there was no evidence that was happening.
Clwyd West AM Darren Millar also said complaints had "increased dramatically" since it started.