Tracy Kearns' partner 'strangled her and hid body', court hears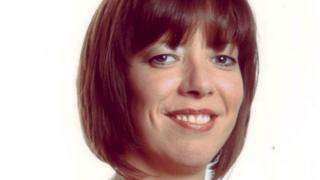 After discovering she was having an affair, a Conwy county man strangled his partner and wrapped her body in plastic, it is alleged.
Anthony Bird, 48, is then said to have covered Tracy Kearns' body in debris in a trailer.
Mr Bird denies the murder at their home in Kinmel Bay, in May this year, but accepts responsibility for her death.
Opening the case at Mold Crown Court, prosecutor Ian Unsworth said he "attacked and strangled" his partner.
Mr Unsworth said the defendant misled police and even helped officers in the search for the 43-year-old mother-of-two, telling "lie after lie".
The couple had been in a relationship for seven years and had two daughters together.
They both worked at the Sandy Cove Club in Kinmel Bay but Mr Unsworth said things deteriorated and she started a relationship with another man, Andrew Jones.
'Ultimate plan'
The court heard the defendant met Mr Jones on 7 May and appeared to take news of the new relationship well, asking him not to "rub my nose in it".
However, the prosecution said he killed Miss Kearns in the days following this meeting.
Mr Unsworth said if his "ultimate plan" had been successful, the body would have been moved and destroyed.
"She would have forever been regarded as a missing person," he said.
"It was a killing that was as contemptuous for her body as it was as ruthless in its execution."
"He now accepts that he caused her death," added the prosecutor, who said he anticipated Mr Bird would claim he suffered a loss of control.
"We the prosecution say that you can be sure that the defendant did not suffer a loss of control."
Proceeding.