Police Taser use on Llandudno head injury man 'justified'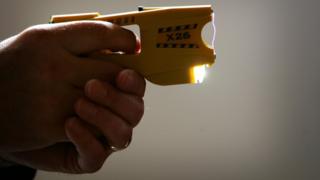 A policeman who used a Taser on a man who then fell backwards and suffered severe head injuries has been cleared of any wrongdoing.
The officer tasered him after being called to a disturbance in Llandudno, Conwy county, in July 2016.
After being hit with the shock, the 24-year-old fell and hit his head.
An investigation by the Independent Police Complaints Commission (IPCC) said his response was in line with national and North Wales Police policy.
Police arriving at the address in Bryniau Court were told the man had been seen in the street with a large knife.
IPCC operations manager Melanie Palmer said: "The IPCC investigator found no indication that the officers involved in this incident may have behaved in a manner that would justify the bringing of disciplinary proceedings.
"The evidence indicates the officer who tasered the man used no more force than he honestly, reasonably and instinctively considered necessary for the purpose of protecting himself and his colleague."
As part of the investigation, witnesses were interviewed and body camera footage from the officers was reviewed.
The man required hospital treatment for his head injury and the IPCC said he has "recovered significantly".