Barmouth Bridge £20m plan on its 150th anniversary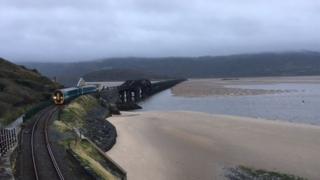 Barmouth Bridge which celebrates its 150th anniversary could be given £20m to secure its future.
Network Rail hopes the money will help preserve the historic Gwynedd viaduct for the "next 150 years".
The wooden structure, which was built in 1867, has survived two world wars and a bout of worm wood.
On Friday, it is hoped plans for the future of the Grade II-listed bridge will be finalised.
Bill Kelly, chief operating officer with Network Rail Wales, said: "We are planning to spend in excess of £20m on this bridge between 2019 and 2024.
"That's an exciting period for us, it's an exciting period for the bridge and for the Cambrian line - fantastic news."
He added he hoped to have the plans approved on Friday.
Barmouth Bridge, which runs over the River Mawddach estuary in Cardigan Bay, was first opened in 1867.
It is one of the longest timber viaducts still in use in Britain and the cash will help secure its future.
Designed by Welsh civil engineer Benjamin Piercy, and English civil engineer and architect Henry Conybeare, the bridge was built as part of the then Aberystwyth & Welsh Coast Railway.
It spans about 730m (800 yards) and is supported by 113 wooden trestles.
Marine woodworm
During its lifetime, it has survived two world wars.
It was nearly destroyed in 1946 when a live naval mine washed ashore, brushing up against its wooden pillars but not detonating.
In 1980, it was also discovered that marine woodworm had eaten into 69 of the supporting pillars. The bridge was subsequently closed for six months for repairs.
Its 150th anniversary was also marked by the running of a special train pulling Riviera Trains Mark 1 carriages from Shrewsbury to Pwllheli.
Rail freight service DB Cargo UK arranged the special rail service to travel over the bridge, which is still used by local passenger trains.