More than 2kg of cigarette butts cleared from Snowdon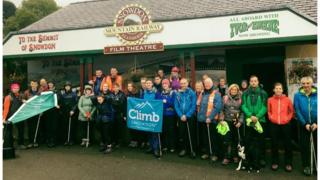 Volunteers have cleared 28 bags of rubbish from Snowdon, including more than 2kg of cigarette butts.
It was part of a UK-wide effort to clean up some of the country's biggest mountains.
One reservoir and seven peaks were climbed and cleaned by 109 volunteers as part of the Real3Peaks Challenge.
The Snowdon collection was attended by 29 volunteers, who also discovered two 30-year-old soft drinks cans.
The organiser of the challenge, Richard Pyne, said he planned on continuing the annual event until they "don't need to do it anymore".
Ross Worthington, who along with his wife Kate ran the Snowdon leg of the challenge, said passing walkers were supportive and some were "inspired to do their own bit".
In total, 570kg (1,256lbs) of waste was cleared from the eight sites across Great Britain which included:
Snowdon (Wales)
Ben Nevis (Scotland)
Ben Lomond (Scotland)
Lochnagar (Scotland)
Ben MacDui (Scotland)
Scafell Pike (Lake District)
Mam Tor (Peak District)
Dovestone reservoir (Peak District)