Water hydrant bursts in Cardiff city centre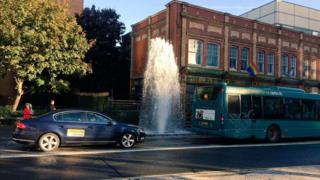 A water hydrant has been damaged in Cardiff, sending a flume of water into the air.
The incident happened on Custom House Street in the city centre on Friday morning.
Welsh Water said it had been caused by a third party working in the area and that its team was sent "straight to the site". It has since been repaired.
A spokeswoman added: "There was no disruption to water supplies."
Passersby tweeted photographs showing the burst main.