Slavery victim support officer role starts in north Wales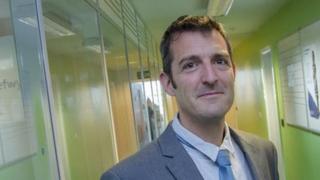 A dedicated support officer for victims of modern slavery has been appointed in north Wales.
Mathew Hazlewood's role has been made a "key part" of the North Wales Police and Crime Commissioner's bid to tackle the "growing issue".
Arfon Jones said people are being brought through the Port of Holyhead for labour in the region or beyond.
The force helped safeguard 60 victims in the last year.
Mr Hazlewood, a former Red Cross worker, will be based in the force's modern slavery unit in St Asaph, Denbighshire, and will help to raise awareness about the problem.
It follows Wales' anti-slavery chief Stephen Chapman previously warning that "porous borders" were to blame, adding that the number of those at risk of human trafficking in Wales had risen 400% over a five year period.
"Victims can be male, female or children and from all nationalities and backgrounds," said Mr Hazlewood.
"Some come from a history of poverty while others are kidnapped or are fleeing political or religious unrest. But all are ultimately vulnerable and in need of help."
Mr Jones, who first announced plans for a dedicated modern slavery officer in April, said: "Holyhead port is a real challenge and we know people smuggling and labour exploitation are issues we need to urgently tackle and address."
He added: "We have to remember that survivors of modern day slavery and human trafficking will present a long-term problem if only due to language and cultural differences. These are issues we will need to sensitively overcome."