Celebration as cult show The Prisoner turns 50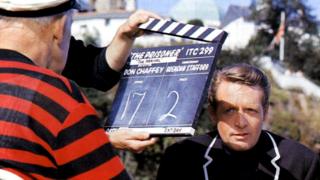 A celebration took place on Friday to mark the 50th anniversary of a cult classic TV series filmed in Gwynedd.
Surviving cast members and special guests took part in a Q&A for The Prisoner's anniversary, and episodes were screened along with the premiere of new documentary In My Mind.
Filming began in Portmeirion in September 1966, starring Patrick McGoohan in the part of Number Six.
He was held captive in a village where residents were known only by a number.
He would try and escape every week, only to find he was unable to break free without understanding who his captors were and which side they were on, why he was imprisoned and who Number One was.
The show was the creation of McGoohan, producer and director David Tomblin and script editor George Markstein.
At 19:30 BST, there was a special presentation of the episode Arrival - 50 years to the minute of its UK premier.
In April, a campaign was launched to raise £90,000 to erect a life-size statue of McGoohan at Portmeirion's Italianate village.
Catherine McGoohan, who was 14 when she first visited Portmeirion with her father, said the location and its buildings had remained unchanged.
"I can close my eyes and it's 50 years ago. It's an extraordinary place," she said.
"You wonder what The Prisoner would have been like or if there would have been a Prisoner without Portmeirion."