Llandudno rocks removal and new beach sand could cost £13m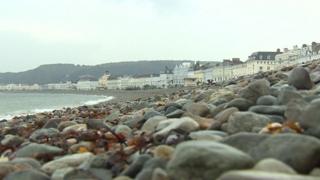 Removing rocks from Llandudno's North Beach and replacing them with sand could cost as much as £13m, according to a Conwy council report.
The rocks were put there in 2014 to strengthen sea defences after bad winter storms.
But some campaigners believe it has damaged the resort's image and they want them taken away.
The council has previously said it would rather be criticised for a lack of sand than failing to protect homes.
Llandudno town councillor Ian Turner said the rocks had "destroyed" the resort's beach.
The report was presented to Conwy councillors at a meeting on Thursday.