Defence secretary visits £20m revamped RAF Valley runway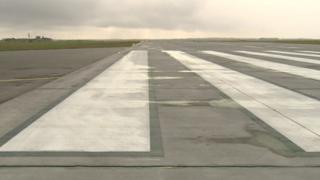 The main runway at the RAF Valley airbase on Anglesey has re-opened following a £20m refurbishment.
Defence Secretary Sir Michael Fallon visited the site to unveil the revamped strip which will extend the life of the airfield by 25 years.
The work has also included upgraded taxiways, improved aeronautical lighting and a new perimeter road.
RAF Valley is where fast jet training takes place with the Hawk T2 aircraft along with helicopter training.
"This famous runway has been an integral part of the careers of generations of fast-jet pilots who have seen action across the world and are currently leading RAF strikes against Daesh," Sir Michael said..
"I'm delighted that this investment will see the runway play that vital role for at least another 25 years, training new pilots in the skills they need to help keep us safe when flying the next generation of aircraft."
A newly-refurbished hangar at RAF Valley will also house three new Jupiter helicopters which will be used to train pilots.
Valley station commander Group Captain Nick Tucker-Lowe, said the new runway makes the RAF "well prepared for the future".