Ceremonies to name lifeboats in Aberdovey and Barmouth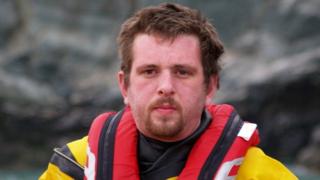 Ceremonies to name two new Gwynedd lifeboats have taken place over the weekend.
On Saturday, Aberdovey's £214,000 B-class lifeboat was named Hugh Miles after the late son of Joan Miles, who left her estate to the RNLI.
On Sunday, Barmouth's new £48,000 D-class lifeboat was named Craig Steadman in memory of a young Holyhead crew member who died.
Aberdovey's boathouse was also rededicated after recent modifications.
Dave Williams, volunteer lifeboat operations manager at Aberdovey, said Ms Miles had requested part of her estate be used to fund the lifeboat to be stationed on the Welsh coast.
Her son's pleasure before his death had been watching lifeboat launches and crew training at various lifeboat stations.
The parents of Mr Steadman, Sharon and Ray, played a central role in Sunday's ceremony at Barmouth.
Their son was 28 when he died in a crash on the A55 near Llanfairpwll in August 2015.
Mrs Steadman said: "If anybody needed help in any way, Craig would be there. He had very large wings and sheltered many in need under them.
"Through this lifeboat, Craig will live on. He will continue to help people, as he always did in life."
At the end of the ceremony the D-class lifeboat - funded thanks to a joint effort by Holyhead and Barmouth RNLI stations - took to the water to cheers from the hundreds-strong crowd.