Charity helps drug addicts set up their own businesses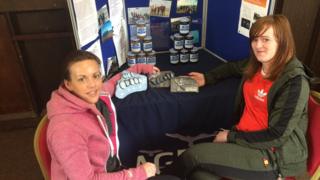 Former drug addicts in Gwynedd and Anglesey are being encouraged to become entrepreneurs to help them beat their habits.
Some residents at Penrhyn House - a rehabilitation centre in Bangor - have set up a carpet cleaning business while others are making jams and chutneys or cosmetics from beeswax.
Organisers of the initiative said it helped to give people the confidence to stop using drugs.
They now want to expand the service.
The centre, based in an old youth hostel, is run by the charity North Wales Recovery Communities, it opened in May 2015 and has treated between 700 and 800 people.
It is now helping some people stop taking drugs by giving them support and advice to set up their own businesses.
James Deakin, manager of Penrhyn House, said it was giving people a focus and also experience in the world of work.
"It's sometimes difficult as a recovering drug addict to get meaningful employment," he said.
"Gaps in your work record - and sometimes a criminal record - can all make it difficult to convince employers to take you on.
"If people can move on from here with something positive on their CV, they stand a better chance of getting and keeping a job. Quite a few have gone on to paid employment.
"We've got people who've qualified as beekeepers and others making cosmetics from the beeswax.
"The residents are growing organic fruit and vegetables and have set up deals with two local restaurants to supply them.
"The carpet cleaning business has only been going for 12 weeks, but we've already got one resident working on it full time."
Former addict Steph Jones, from Bangor, said: "We've been making cards and slate artworks and we've taken them to shows to sell.
"Going out there and selling stuff is quite an experience. It gives you a huge lift when someone wants to buy your work.
"You're learning for the future. Some people come here and they've got no self confidence - they think they can't do things, they've been told their whole life that they can't, that they're rubbish.
"It's giving them a chance to show what they can do with a bit of encouragement."