Anglesey biomass plant 'will progress' despite setback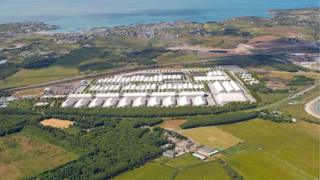 The company looking to develop a £1bn biomass-fuelled plant on Anglesey has suffered a setback after failing to win a lucrative government contract.
Orthios wants to develop a combined heat and power plant on the former Anglesey Aluminium site in Holyhead.
But it was unsuccessful in bidding in the UK government's renewable energy Contracts for Difference (CfD) auction.
An Orthios spokesman said the project "will progress despite the result".
The development promises to create 500 permanent jobs, and a further 1,200 during the construction phase.
This latest setback follows confirmation from the company earlier this year that its Chinese investor, the Sino Fortune Group, had pulled out of a deal.
A statement from Orthios said it was frustrated at being "excluded from the support" despite re-engineering its proposals and bidding "significantly below the CfD strike price".
But it said its business model "features multiple revenue streams, of which the sale of electricity under the CfD contract is just one"