Theatr Ardudwy staff and show changes over money issues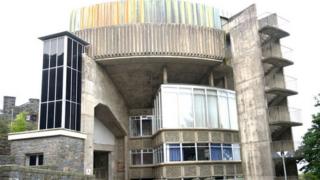 Staffing levels will change and performances will be cutback at a Gwynedd theatre because of money problems.
Theatr Ardudwy, in Harlech, said there would be a "temporary curtailment in arts and entertainment activities" due to "financial circumstances".
It said it would make changes to staffing levels but did not give details.
It added the board would review the theatre's role in the community.
The statement read: "Following a further review, Theatr Ardudwy is making changes to its staffing levels.
"The board has a commitment to its principal funders, Arts Council Wales and Gwynedd council, to deliver a programme of events, and this programme will be fulfilled.
"Owing to the theatre's financial circumstances, there is however to be a temporary curtailment in arts and entertainment activities at the venue while the board reviews the theatre's role within the community of Harlech and beyond."
A Gwynedd council spokesman said it had earmarked £7,500 in 2017/18 to support the theatre, on the condition it carried out specific activities.
It said it would monitor activities to ensure value for money and appropriate expenditure and council officers would meet Theatr Ardudwy's board members this week to "discuss the latest situation".
An Arts Council of Wales spokesman said: "Making sure that the people of Ardudwy have access to a cinema and live arts events in their own community and close to their homes is important to us.
"We will continue to work with the theatre's board and our partners Gwynedd council and Adult Learning Wales to secure and develop long term arts provision in the area."
Last October the theatre was temporarily closed due to health and safety concerns but it reopened after the structure was declared "sound" with issues limited to the theatre's facade.