Caernarfon Airport fatal plane crash inquiry continues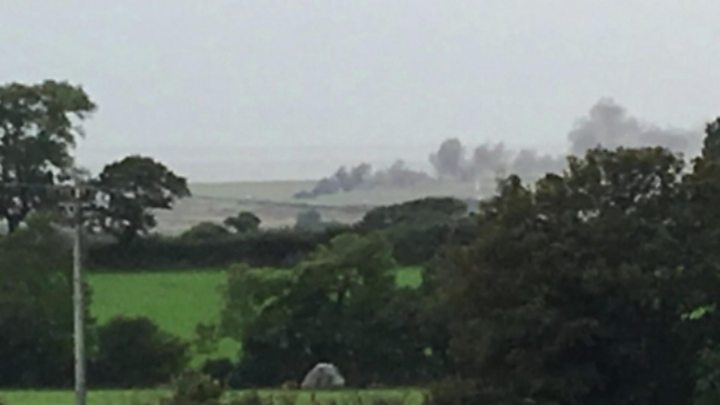 An investigation is continuing into the cause of a fatal plane crash at a north Wales airport.
The pilot was killed when the light aircraft hit the runway at Caernarfon Airport in Gwynedd on Wednesday evening and burst into flames.
Police said the man, who was not from the north Wales area, had not yet been formally identified but his family had been informed.
The Air Accident Investigation Branch is leading the inquiry.
Supt Nigel Harrison of North Wales Police said: "We are able to confirm one male from outside of the north Wales area has tragically died however has not yet been formally identified.
"The coroner has been informed. Next of kin have been informed and our thoughts are very much with them at this time."
Witness Mark Hancock described seeing a "fireball" after the plane struck the runway while trying to land.
"The first thing I noticed was that the plane had no landing gear on, its wheels weren't down," he said.
"It was coming in way too fast and then the bottom of it did a sort of belly flop on the runway.
"It caught fire and then it bounced back up into the air and when it hit the ground again it burst into flames."
Mr Hancock, who was visiting nearby Morfa Lodge Holiday Park, added: "It was like a massive fireball and there was black smoke everywhere."
The pilot was pronounced dead at the scene after 999 crews were called to the airport at about 18:30 BST on Wednesday.
North Wales Police and the Air Accident Investigation Branch are involved in the investigation.
Caernarfon Airport operates training flights and is also home to the Wales Air Ambulance and HM Coastguard helicopters operated by Bristow.
Wales Air Ambulance said the crash did not involve any of its aircraft.