Pilot killed in plane crash at Caernarfon Airport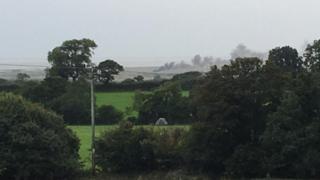 One person has died after a light aircraft crashed onto the runway at an airport in north Wales.
Police were called to Caernarfon Airport at 18:29 BST on Wednesday after the plane crashed and burst into flames on the runway.
The pilot was pronounced dead at the scene and an investigation has begun.
Ch Insp Sharon McCairn, of North Wales Police, said: "A cordon is in place around the site and we are urging the public to remain clear of the area."
The Air Accident Investigation Branch has sent a team to the airport.
Mark Hancock, a guest at the nearby Morfa Lodge holiday park, said he saw what looked like a twin-engine plane crash as it came into land.
"The first thing I noticed was that the plane had no landing gear on, its wheels weren't down," he said.
"It was coming in way too fast and then the bottom of it did a sort of belly flop on the runway. It caught fire and then it bounced back up into the air and when it hit the ground again it burst into flames.
"It was like a massive fireball and there was black smoke everywhere. We could feel the heat from where we were standing. There were bits of plane all over the runway."
Caernarfon Airport, near Dinas Dinlle, operates training flights and is also home to the Wales Air Ambulance and the HM Coastguard Helicopters operated by Bristow.
Wales Air Ambulance said the crash did not involve any of its aircraft.