Llanrwst fatal fire: Families to sue Whirlpool over deaths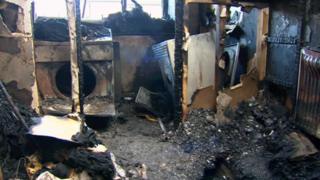 The families of two men killed in a flat fire "most likely" caused by a faulty tumble dryer are to pursue civil action.
Bernard Hender, 19, and Doug McTavish, 39, died in the blaze above a funeral director's office in Llanrwst, Conwy county, in October 2014.
A narrative conclusion was recorded at an inquest into their deaths held in Ruthin.
Solicitors said the families wanted to ensure further "tragedy" was avoided.
Garry Lloyd Jones, 50, who owned the flat and lived with the two men, survived the fire.
He said the dryer had been switched off when he went to bed, but he was woken up by the smell of smoke.
He described seeing flames coming from the drum of the tumble dryer.
Notices had previously been issued by Whirlpool telling customers to unplug Hotpoint, Creda and Indesit models manufactured between 2004 and 2015 after a potential fire risk was identified.
The inquest heard conflicting evidence about whether the dryer was to blame.
They included claims electrical faults in a light fitting or an iron could have sparked the blaze, or the spontaneous combustion of towels with vegetable oil on them.
But assistant coroner David Lewis said "on the balance of probabilities, the fire was caused by an electrical fault in the tumble dryer in the laundry room of the flat".
Following the inquest, solicitor Thomas Jervis said: "Mr Lloyd Jones and the families of the deceased will be pressing on with their civil claims now that the coroner has reached his conclusions.
"Nothing will bring their loved ones back, but they are keen to ensure that this type of needless tragedy does not happen again."
He added they would also be pushing for changes to be made to the product recall system in the UK, as recently highlighted by London Fire Brigade and former BBC presenter Lynn Faulds Wood.
A spokesman from the Department for Business, Energy and Industrial Strategy said the government took product safety very seriously and it was "monitoring the situation closely".
He said its product recall website made it clear to the public which white goods were safe to use.
Whirlpool said safety was its "number one priority" and it would carefully review and consider the coroner's findings in the case.