Faulty tumble dryer 'likely cause' of Llanrwst fire deaths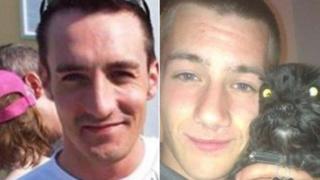 A flat fire which killed two men in Conwy county was most likely caused by a fault in a tumble dryer, a coroner has concluded.
Bernard Hender, 19, and Doug McTavish, 39, died in the blaze above a funeral director's office in Llanrwst in October 2014.
An inquest into their deaths was held in April and concluded at Ruthin County Hall on Friday.
It heard conflicting evidence about whether the dryer was to blame.
Garry Lloyd Jones, 50, who owned the flat and lived with the two men survived the fire.
He said the dryer had been switched off when he went to bed, but was woken up by the smell of smoke.
He described seeing flames coming from the drum of the tumble dryer.
Notices had previously been issued by Whirlpool telling customers to unplug Hotpoint, Creda and Indesit models manufactured between 2004 and 2015 after a potential fire risk was identified.
A spokesman from the Department for Business, Energy and Industrial Strategy said the government took product safety "very seriously" and it was "monitoring the situation closely".
He said its product recall website makes it clear to the public which white goods are safe to use.
Fire investigation experts John Loud and Dr Delmar Morrison, representing Whirlpool, told the inquest the cause of the fire was unknown.
Their possible explanations included electrical faults in a light fitting or an iron, or the spontaneous combustion of towels which had vegetable oil on them.
Paul Jenkinson from North Wales Fire and Rescue Service said the fire had started "in or around the tumble dryer", and ruled out the other possible causes.
Assistant coroner David Lewis said he found it "highly improbable that an iron or light fitting were the cause".
"On the balance of probabilities, the fire was caused by an electrical fault in the tumble dryer in the laundry room of the flat," he said.
He recorded a narrative conclusion.
A statement from Whirpool extended its "profound condolences" to the families and friends of Mr Hender and Mr McTavish.
"Safety is always our number one priority. We treat all incidents extremely seriously and we have a robust process that continuously reviews the safety of all our products," a spokesman said.
"We will carefully review and consider the coroner's findings in this case."
Speaking after the inquest Mr Lloyd Jones said he had been on a journey to "hell and back" but praised the coroner for his "very thorough" investigations.
Mr Jenkinson said the inquest drew attention to "compelling" forensic evidence that suggested the cause of the fire was an electrical fault in the tumble dryer's door switch.
He stressed the importance of following the tumble dryers' manufacturer instructions and the importance of having a working smoking alarm.
"There were no smoke alarms fitted in this Llanrwst property," he said.